How would you spend a weekend away in Stellenbosch?
Posted on Fri February 16, 2018.
Here are some of our favourite weekend activities.
We're giving you the chance to win a weekend's stay at our luxury boutique hotel, 107 Dorpstraat. What would you do with your weekend away? Would you explore the Winelands or use the time to relax and unwind in your luxury room? The possibilities are endless. Take a look at our favourite things to do on weekends to help you get the creative juices flowing.
Explore the mountains
If you're someone that enjoys the fresh mountain air, the sun on your skin, and the wonderful adventures that lie waiting in the great outdoors, then the Stellenbosch Winelands will be a treat for you. Enjoy the hiking and cycling trails of the stunning Jonkershoek valley, swim in waterfalls and make your way to the top of the highest peak in the area, Victoria Peak (1,590 m). Breathe in the fresh smell of fynbos and enjoy the view from the top.

Taste award-winning wines
While some people enjoy the smell of fynbos in the crisp mountain air, others prefer the smell of freshly cut grass in Chardonnay. So, if you'd rather stick to the foothills of the mountains and appreciate them from afar – the Stellenbosch Winelands offer many sensory adventures and taste sensations for the non-mountaineers. In fact, if you stay at 107 Dorpstraat, you'll find a wine pairing experience right outside your door. Click here to see what our Sweets and Wine Pairing is all about.
Have a lazy day (or weekend)
We all need a lazy day every now and then to help us unwind and recuperate. And what better way to relax than in a luxurious bed, in a beautifully decorated room with some pizza, wine and the sound of… absolutely nothing! Our rooms at 107 Dorpstraat are all fitted with triple-glazed windows to keep the sounds of the bustling Dorp street out and the soothing, cool air from your air-conditioning in. And with a proper Italian pizzeria (Asta) basically next door and a fully-stocked minibar (with wine) in your room, there's really no reason to leave. Ever.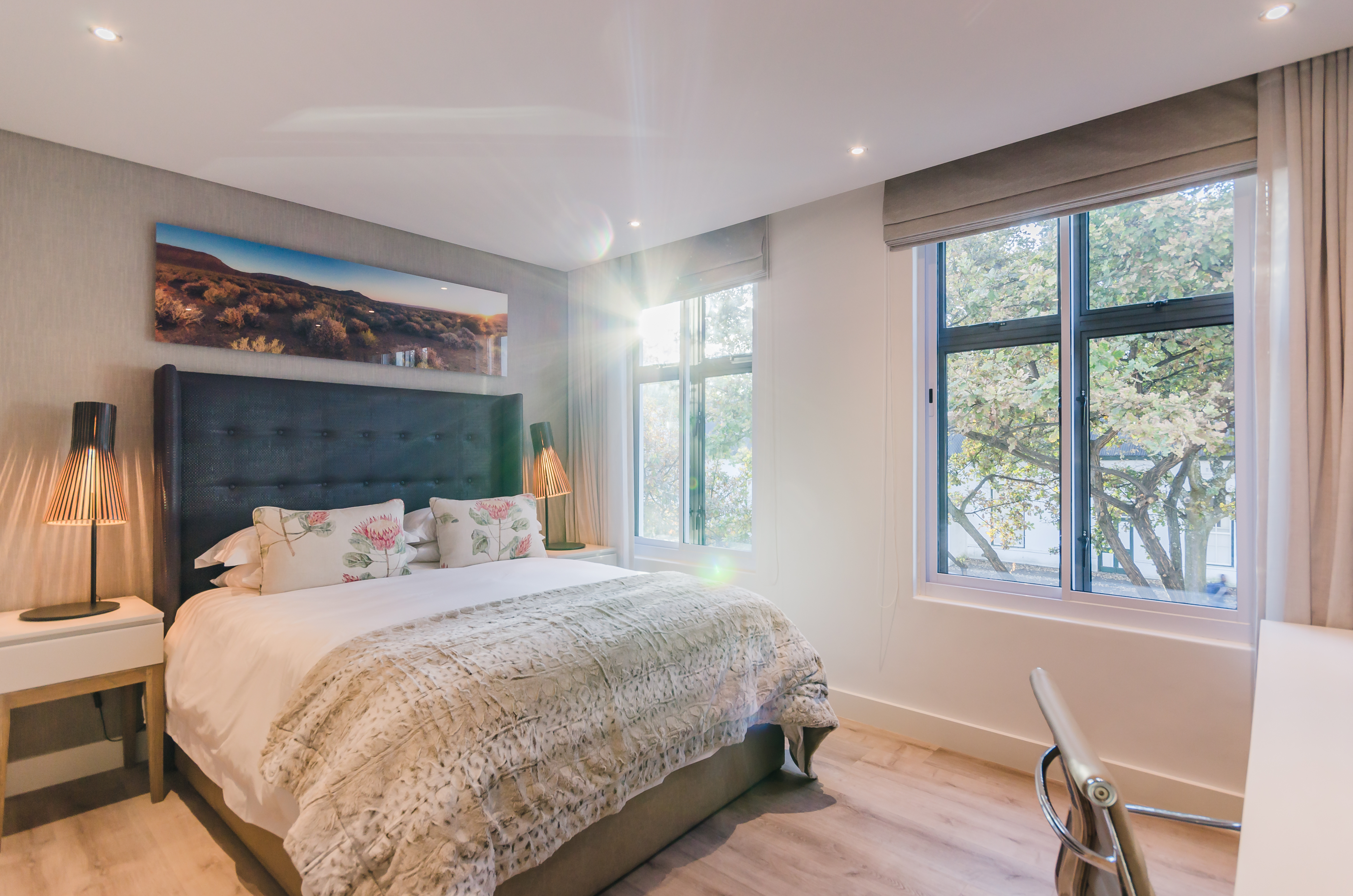 Enjoy the view
If you do, however, feel like you need some fresh air, why not take your wine up to the rooftop terrace, where you can relax on a sun lounger and enjoy the view. Our rooftop terrace is one of very few in Stellenbosch and it is reserved for our guests, so enjoy the peace and quiet that comes with a private lounge in the sky. The view is lovely, with mountain vistas, pastel sunsets and lush green treetops sticking out between the surrounding rooftops.
Win a weekend! Do all of these, – and more
If any of our favourite weekend activities inspired you to visit Stellenbosch, enter our social media competition and you could stand the chance of winning a weekend's stay at our boutique hotel, 107 Dorpstraat. Click here to see the competition post and how to enter. If you don't win you can always make use of one of our amazing special offers. Click here to see our current specials. You can also read more about things to do in Stellenbosch here.